---
---



Garden wood mulch takes the form of organic shredded wood chips or wood floss to be used as beneficial ground or soil cover. Its benefits include:

Suppresses Weeds
Retains Soil Moisture
Increases Soil Nutrient
Regulates Soil Temperature
Adds Soil Organic Matter
Reduces Erosion/Wash Off
Keeps Areas Dry/Mud Free
Prevents Soil Splash
Prohibits Soil Compaction
Encourage Microbes Activity
Beautifies Landscapes
A 100% Eco Product
Garden Wood Mulch using organic material such as wood chips to act as ground cover (or by the proper term 'mulching') has been around for some time... just not in Asia. Now you don't have to imagine your garden looking like the pictures above, or those featured in our mulch landscape gallery. With the launch of our new organic mulch e-shop, you can order vibrant looking mulch for your garden today. We offer self collection method as well as free/paid delivery service.
Using Wood Mulch As Ground Cover
Benefits You In The Following Ways:
| | |
| --- | --- |
| Benefit #1 | No More Back-Breaking Work From Weeding Your Garden! |
| Benefit #2 | Save Hundreds of Ringgit From Having to Employ Gardeners! |
| Benefit #3 | Save Time & Money From Having To Water Your Plants Less! |
| Benefit #4 | Spend Less On Fertilizers Or Constantly Replace Dying Plants! |
Start enjoying
LOW MAINTENANCE GARDENS
when you start mulching!
Find out how applying mulch helps you save time, money and physical effort.
A


GARDEN MAKEOVER


CASE STUDYDouble Storey Corner Unit. Location: Ampang, Selangor


See how Sandra converted her garden into a blissful sanctuary, accented with natural wood mulch...





4X Times More Coverage Than 1 Bag of Garden Stones!!

Other Comparisons:
Artificial Grass : RM 4.80 per square feet
Wood Mulches : RM 2.00 per square feet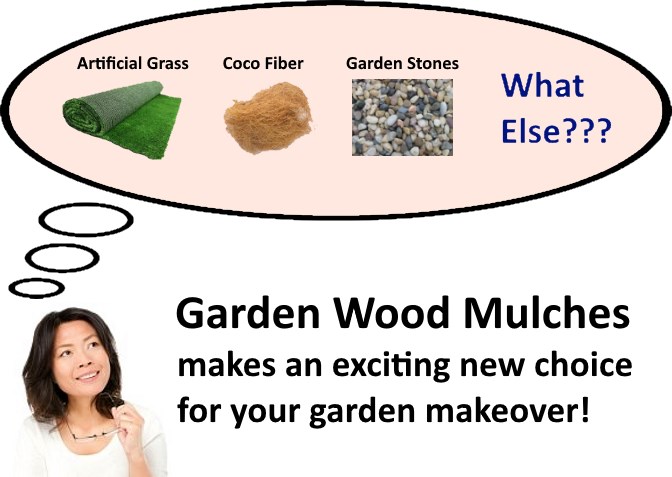 ANYONE CAN DESIGN THEIR OWN MULCH LANDSCAPES!

We'll show you how...
DID YOU KNOW THAT WOOD MULCHES...

Before Breaking Down...
1. IT ACTS AS WEED CONTROL AGENT BY BLOCKING SUNLIGHT

After Breaking Down...
2. IT ACTS AS A BIO-FERTILIZER TO GROW HEALTHIER PLANTS

Read more about benefits of mulching here...
Mulch reduces watering by 60%
Its thick layer slows down evaporation and stops the top of the soil drying out.

HOW DOES MULCHING LEAD TO HEALTHIER PLANTS?
Mulch is an ideal habitat a

nd good food source for soil micro organisms



>


Microbes manufacture beneficial enzymes uptaken by plant roots




>




Plants are more resistant to pests/ diseases and needs less fertilizing

WHATSAPP US NOW AT 012 4701388 TO RECEIVE OUR INSTANT BULK PRICE LIST INFO

WHAT IS THE DIFFERENCE BETWEEN...
FACTORY GRADE




(SEMI-WET)




(Moisture Content 45-55%)




RETAIL/EXPORT GRADE




(OVEN-DRY)




(Moisture Content 15-20%)



1. Use bagged mulch within 1-2 weeks

1. Can be stored in bags for long time

2. Do not lay before a rainstorm

2. Can be laid out anytime

3. May stain a little (wash off easily)

3. No staining

Factory grade mainly differs from retail/export grade in the sense that our mulch does not have to fully go through a rigorous drying process in order to be stored properly in sealed bags for a very long time. Our local customers, on the other hand, can lay the freshly manufactured mulch within 1-2 weeks of purchase, which poses no problems since it is exposed to atmospheric air within a quick timeframe. By avoiding the drying process, the cost of your mulch purchase can be reduced significantly, as reflected on the current prices here. You may still order retail/export grade but as an added option in the product page.